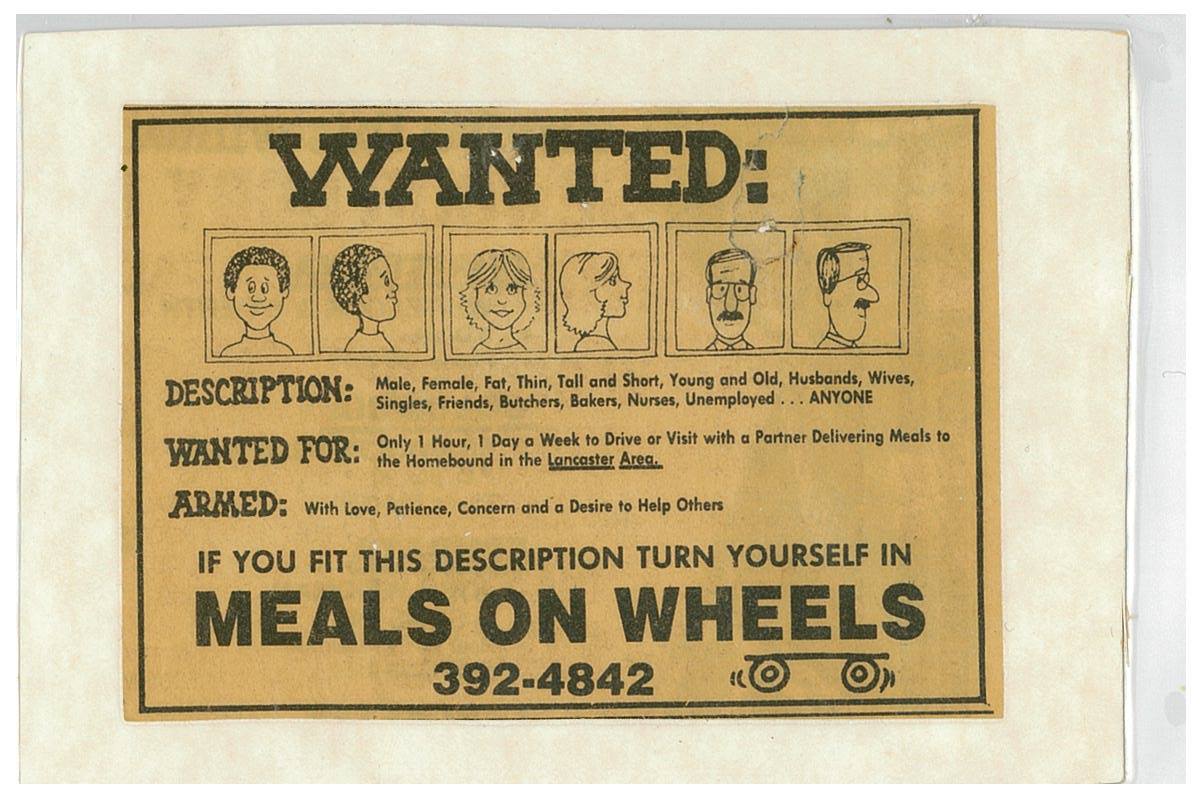 Meals on Wheels of Lancaster advertisement from back in the day. Which day, you ask? We don't know but it sure is cool.
We are looking for volunteers who enjoy driving around the rural back roads of eastern Lancaster County! Meals on Wheels of Lancaster has grown exponentially over the years and we need YOUR support to get the job done. These days, we deliver meals to five different branch locations and there are two in particular that are looking for more volunteers: New Holland & Paradise.
How does it work? All the food is prepared at the Lancaster Meals on Wheels kitchen which is located on Manheim Pike just outside of Lancaster City. We then deliver the food to drop sites at our various branch locations. Each site has their own coordinator who schedules volunteer drivers and manages their respective routes. The drivers meet their coordinator at the site to pick up their meals and off they go!
The New Holland Meals on Wheels program was founded in 1974 and has operated out of the Trinity Lutheran Church on E Main Street ever since. They started off with three clients and a single route stretching from West Leola to Churchtown, PA and from Farmersville to the Welsh Mountains. Today, New Holland MOW delivers three routes– one in Leola, one in New Holland and the third stretches all the way out to Terre Hill & Bowmansville for a whopping 35 mile loop!
The Paradise Area Meals on Wheels program was founded in 1979. They have operated out of a number of different locations including Bird-in-Hand restaurant, Leacock Presbyterian Church and are presently at the Factory Ministries. They have two routes concentrated in Strasburg and Intercourse.
Both New Holland & Paradise deliver meals on weekday mornings. We estimate approximately 2 hours for each volunteer shift. Jump on board the Meals on Wheels train and make an impact on Lancaster's community! To get involved or, if you have questions, please contact us: 717-392-4842 or volunteer@lancastermow.org Or you are welcome to join us for our weekly volunteer orientation on Wednesday afternoons from 1 PM to 3 PM at our Manheim Pike Location: 1085 B Manheim Pike, PA, 17601