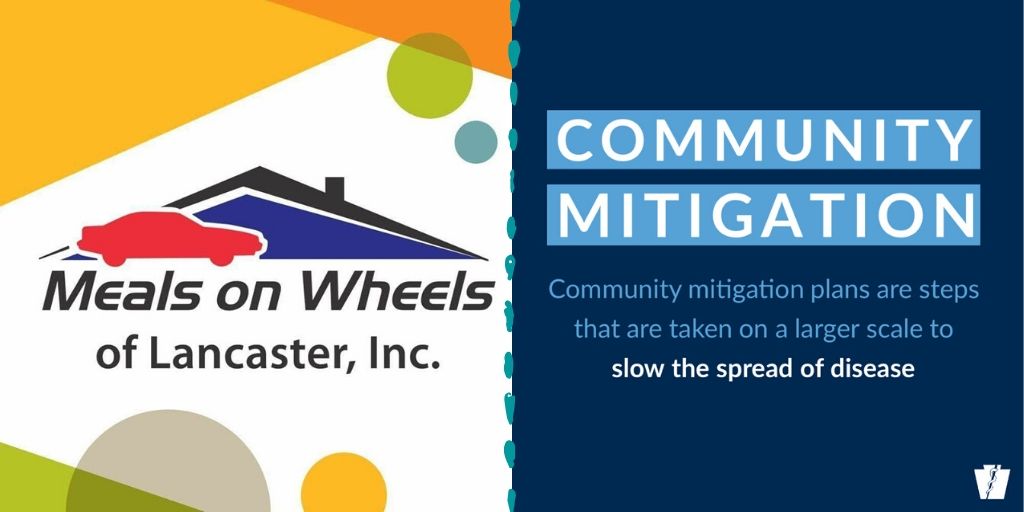 Together, we can deliver.
As the Coronavirus situation continues to evolve, it is important for all seniors, adults with disabilities, as well as their families and caregivers to monitor the outbreak and take steps to prevent the spread of infection. The constant change of information can be overwhelming. At Meals on Wheels of Lancaster, it is our mission to alleviate the challenges associated with aging and disabilities by providing home-delivered meals. We serve clients who are especially vulnerable to this disease. That is why it is so important to us that we provide resources to help you stay prepared in your homes and to notify you of the steps we are taking to secure the health and safety of clients and volunteers alike.
Our Call to Action
At Meals on Wheels of Lancaster, we are doing everything we can to continue the services that we currently offer and maintain the increased sanitation practices in order to protect the vulnerable populations that we serve. We recognize that these unfortunate circumstances are ever-evolving. We are actively monitoring the situation by keeping up-to-date on the Centers for Disease Control and Prevention's (CDC) reports and guidelines. We are encouraging our clients, volunteers and staff to increase sanitation practices by frequently washing hands, avoiding physical contact and relying on coolers or insulated bags to receive/retrieve home-delivered meals. Below, we provide more details regarding these action steps. In order to cushion the increase in costs associated with these practices, we are actively soliciting for donations. This is an excellent way to support our program if you are unable to volunteer at this time. There are various ways that you can make a donation. Keep reading to learn more or click here to make a donation online. We have also experienced fluctuations in both our client and volunteer base as a result of the spread of COVID-19. We ask that, if you are healthy & able, to offer your time & skills to support us in kitchen or delivery. To volunteer click here. To become a client click here. Or keep scrolling.
Donations
To make an donation online, please click here.
Checks made payable to: Meals on Wheels Inc.
Deliver/Mail to our address:
1411 Columbia Ave, Lancaster, PA 17603
Cash donations can be delivered/mailed to our address:
1411 Columbia Ave, Lancaster, PA 17603
Wish List
Below is a list of items that will help us keep our doors open. Please view our Amazon Wish List for additional details. If you shop using AmazonSmile, please select Meals on Wheels of Lancaster as your charity! Please note that Amazon may not have in stock all of the items listed here.
Insulated Cooler Bags
Dimensions should be equal to or larger than: 13″H x 16″L x 9″D or 16″H x 13″L x 9″D
Hard-shell coolers
Dimensions should be equal to or larger than: 9″ x 11″ x 12″
OR Volume of the container should be equal to or larger than: 9 quarts
Hand sanitizers
Size/Volume: optional
Sanitizer products should contain at least 60% alcohol.
Hand wipes or disinfectant wipes
Size/volume: optional
Sandwich bags
Closure: Zipper or resealable
Intended for holding travel-size quantities of wipes and gloves
Gloves
Vinyl, clear, powder free
We use Medium, Large and XL size gloves most frequently
Ice packs
***Please note that if you would like to make a food donation that you please call ahead: 717-392-4842. We abide by specific nutrition guidelines which can make it difficult to rely on food that has been donated. Depending on the food items, we may not be able to use it for our home-delivered meals program. We ask that you please call us, first, with the type and quantity of food that you would like to donate and with as much notice as possible. Thank you.**
Volunteers
To our volunteers,
We are deeply grateful for your dedication to our mission. Your optimism and willingness to serve is changing lives everyday. We are doing everything we can to keep our doors open and consider your health and safety to be as much of a priority as the well being of our clients. So, in an abundance of caution, we ask that if you or anyone in your household is experiencing flu-like symptoms or is especially vulnerable to illness, that you please take the necessary measures to prevent the spread of infection as recommended by the Centers for Disease Control and Prevention (CDC). You can learn more about by visiting their website here.
If you feel that it would be in the best interest for yourself or for Meals on Wheels of Lancaster to call off, please notify us, with as much notice as possible, through our volunteer email address: volunteer@lancastermow.org
It is so important to acknowledge that there are many, many volunteers who could not continue to be involved with Meals on Wheels because of the COVID-19 pandemic. Your need to prioritize your health and wellbeing is significant. We value all that you have offered to us and continue to offer the community, despite the circumstances. This is not but a small gesture on our part but we understand the difficult decisions that you, personally, have had to make this year. We wanted to take this moment to recognize each one of you. Thank you.
As we are able, we will have hand-wipes and gloves available for you to use while volunteering with Meals on Wheels of Lancaster. Please use these to sanitize your hands in between points of delivery and in your personal vehicles. If you are able to supply your own sanitizer products, this will drastically support our efforts to reduce the spread of infection. We are currently operating with an optional mask policy until further notice. At this time, we are not mandating that masks are worn during your volunteer shift. Please feel free, however, to wear a face mask at any time. With this in mind, we ask that all volunteers respect the masking requirements instituted by the various facilities, complexes, etc. to which home-delivered meals are provided.
In addition, we are asking that you communicate with our office regarding clients who do not have or are unable to provide coolers and/or ice packs to receive home-delivered meals. We are able to provide those items to our clients as we believe that maintaining our cooler policy is the best method of preventing spread of the coronavirus.
We extend a sincere thank you for all that you do to support Meals on Wheels of Lancaster.
Sign up to Volunteer
Calling all volunteers! During this ever-evolving situation brought on by the coronavirus, we anticipate fluctuations in our volunteer base. Our most prevalent need will be kitchen & delivery opportunities. Please follow the link above to read more about the volunteer opportunities that we offer. It is important to note that, at this time, we do require state background checks for all of our volunteers. If you have a copy of your own background check that is three (3) years old or newer, we will gladly accept a copy. This will reduce the administrative work associated with bringing on new volunteers. If you are healthy and willing & able to volunteer, please reach out by emailing us: volunteer@lancastermow.org You will receive a response within 48 hours.
Clients
To our clients,
We want you to know that we are doing everything we can to keep our doors open. If you are new to Meals on Wheels– we welcome you! We understand how critical home-delivered meals are to your health and well being. At this time, we are encouraging you to follow the guidelines offered by the CDC to maintain sanitation and hygienic practices. It is important to Understand Your Risk of contracting COVID-19. In an abundance of caution, we ask that you put out a cooler with an ice pack during delivery hours to limit close interaction and the potential spread of disease. If you do not have a cooler and/or an ice pack, we will be able to provide them to you. Please call our office for more information: 717-392-4842.
We acknowledge that the contact-less delivery system that we are encouraging is not suitable for everyone. If your health or ability requires another delivery method, please contact our office so that we may best meet your needs!
In the event that we were to close down or suspend our operations for any length of time, we will report our closing on our website, our various social media sites as well as WGAL's website and TV station. Follow the links below to navigate to the sites mentioned:
Our Website
Our Facebook Page
Our Instagram
WGAL's Closings and Delays
Please search for: Meals on Wheels of Lancaster
Sign Up to Receive Home-Delivered Meals
If you would like to sign up to receive home-delivered meals, please call our office: 717-392-4842 or click here to send us an email. If you would like to learn more about the meals that we serve, please click here.
Coronavirus Updates & Resources
Centers for Disease Control and Prevention
About Coronavirus Disease 2019 (COVID-19)
Understanding Your Risk of Contracting COVID-19
Protect Yourself & Others
Local Updates from the State of Pennsylvania and Lancaster County:
Pennsylvania Department of Health
Lancaster County COVID-19
One United Lancaster: Health News
PA 211 for help with utilities bills, housing assistance, after-school programs for kids, and more.
Local & Nationwide Meals on Wheels Programs
Other Meals On Wheels Locations in Lancaster County Pennsylvania
We are offering to report on behalf of Meals on Wheels programs operating in the Lancaster County Pennsylvania area. If you represent one of these programs, we would like to hear from you about the ways you are managing the COVID-19 crisis. Help us maintain the most up-to-date contact information for your program by visiting our webpage linked above.
Find a Meals on Wheels Provider Near You
If you are looking to volunteer, make a donation, receive services or stay up-to-date regarding your local Meals on Wheels provider, we recommend visiting the Meals on Wheels America site and search for programs by zip code. Please note that not all Meals on Wheels programs are members of Meals on Wheels America.
Response from Meals on Wheels America
Providing support for senior nutrition programs across the nation is critical at this point in time. Meals on Wheels America offers frequent updates on their fight for supplemental funding as well as information for you and your loved ones to prevent the spread of infection. Please use the link above to learn more.
Contact Your Elected Officials
At this time, our local and federal governments are planning their responses to the COVID-19 crisis. Let us encourage them to keep our vulnerable neighbors and food security at the forefront of their minds.
Bob Casey, Senator for Pennsylvania
Pat Toomey, Senator for Pennsylvania
Lloyd Smucker, Representative for Pennsylvania's 11th District
Legislators of Lancaster County, PA
American Rescue Plan Act of 2021
This bill was passed and signed into law on March 11, 2021. It is intended to provide immediate direct relief to families and workers impacted by the COVID-19 pandemic. There are a variety of ways in which the funds can be distributed. Lancaster County, PA has received over $100 million dollars in funds from this bill. To learn more, click here.