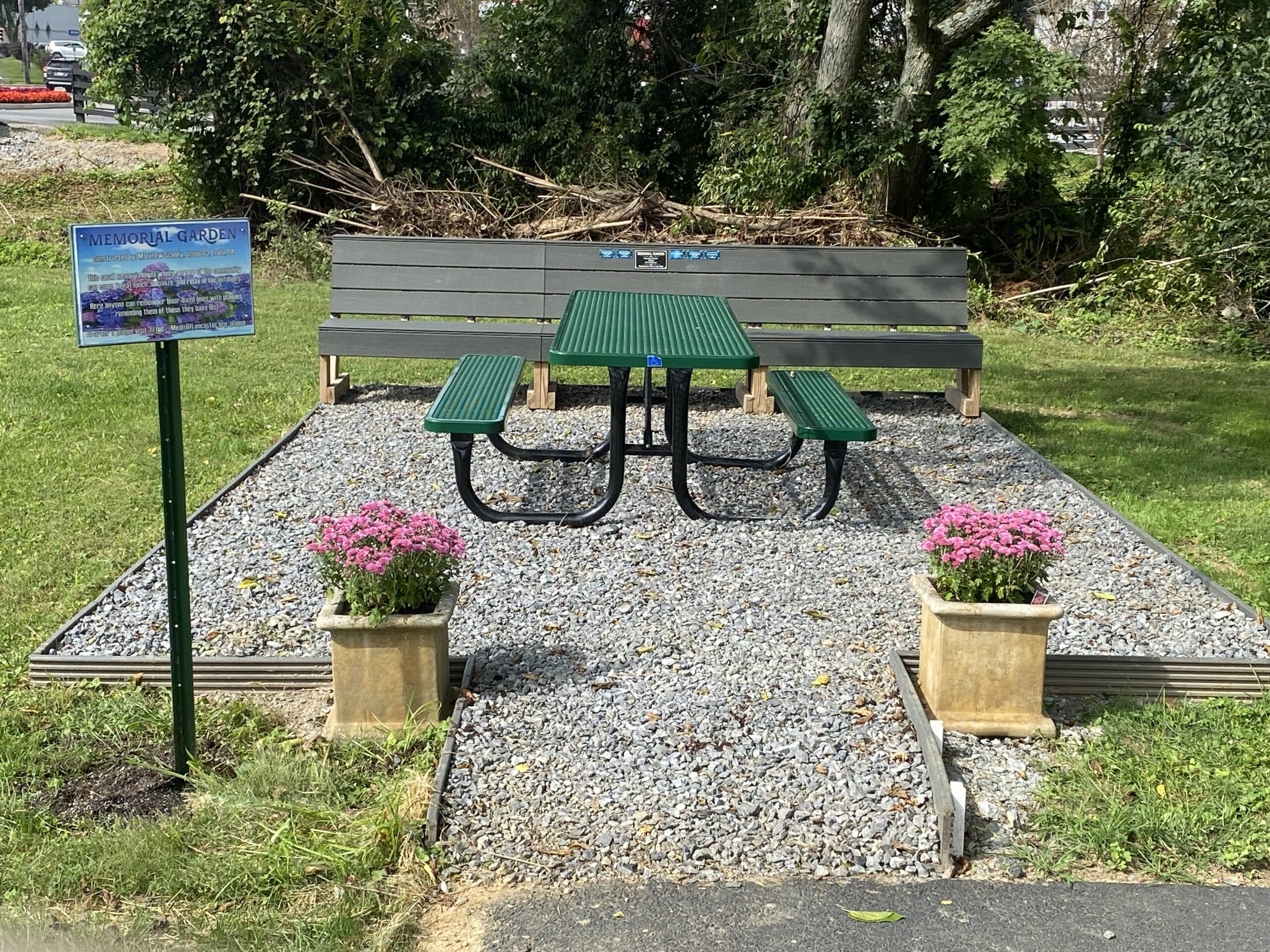 Hello, my name is Matthew Scholly. The picture that you see above is of the memorial picnic area/garden that I have built. This project was created for my Eagle Scout project. I am part of Troop 83, out of Leola.
The purpose of this area is to fill the back bench with small memorial plaques that volunteers or anyone of the community can order to have an area to cherish their loved ones. The plaques, when ordered will, be installed about a week after they are ordered, due to availability of the producer. To read a memorial passage please continue on just below, in the future, I may possibly add other memorial passages to show the amazing impact the plaques have had on families and their loved ones.
For further information on the plaques and access to the order form please scroll past the memorial passage.
Memoriam of Edward Joseph by: Hannah Summers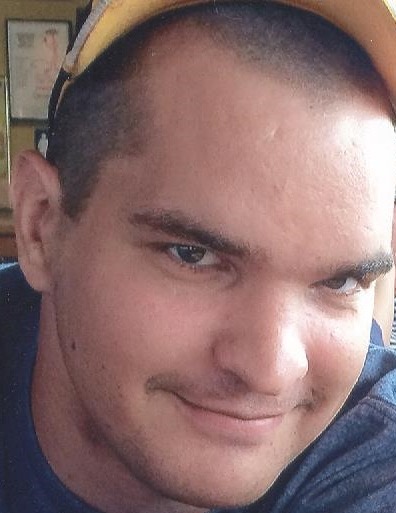 My name is Hannah Summers. I unexpectedly lost my beloved son Edward (Ej) Joseph, who was only 29 years old, on June 27, 2016.
The memorial garden and plaque will be so special to me since I don't have a burial lot, so it will be another way for me to see his name, and spend time with him there. This will have such an amazing impact on me, and I am very happy this is an opportunity for me to remember.
Plaques
For the plaques there will be three different options for you to choose from. Each will have different parts that you can change to what you would like. All of the plaques will be the same size and price, the only difference between them is what words you can change and what words are preset.
All the text that is colored in blue is available to be changed in each option.
All plaque options will be $15 no matter what text you have.
Below all of the options will be an area for you to choose what option you would like, what you would like to change about the text, and an area to put in your payment information.
Option 1.
Example:
In loving memory
JOHN SMITH
1935 – 1995
From
Your adoring family
Example Picture of Plaque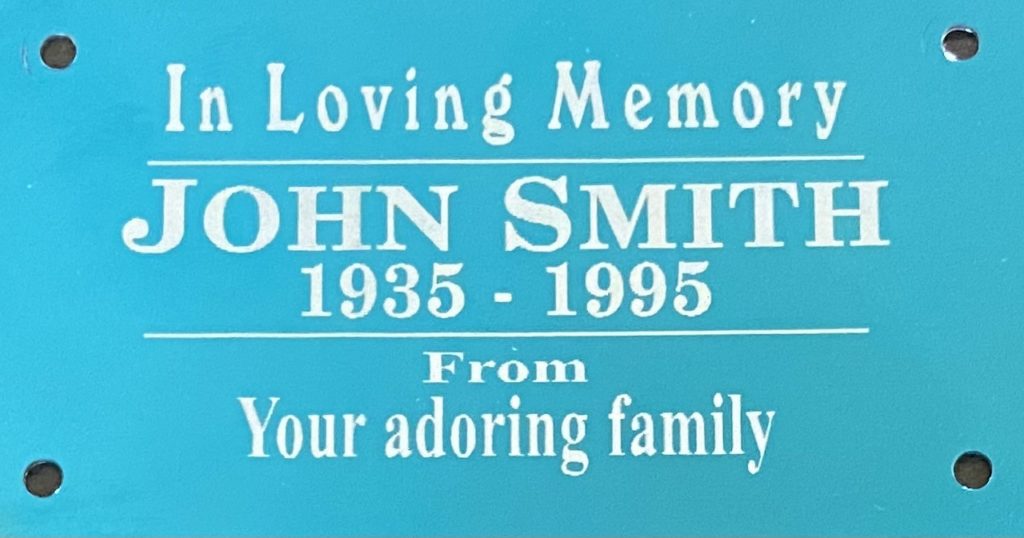 Option 2.
Example:
In memorial of
JOHN SMITH
1935 – 1995
From
Your adoring family
Example Picture of Plaque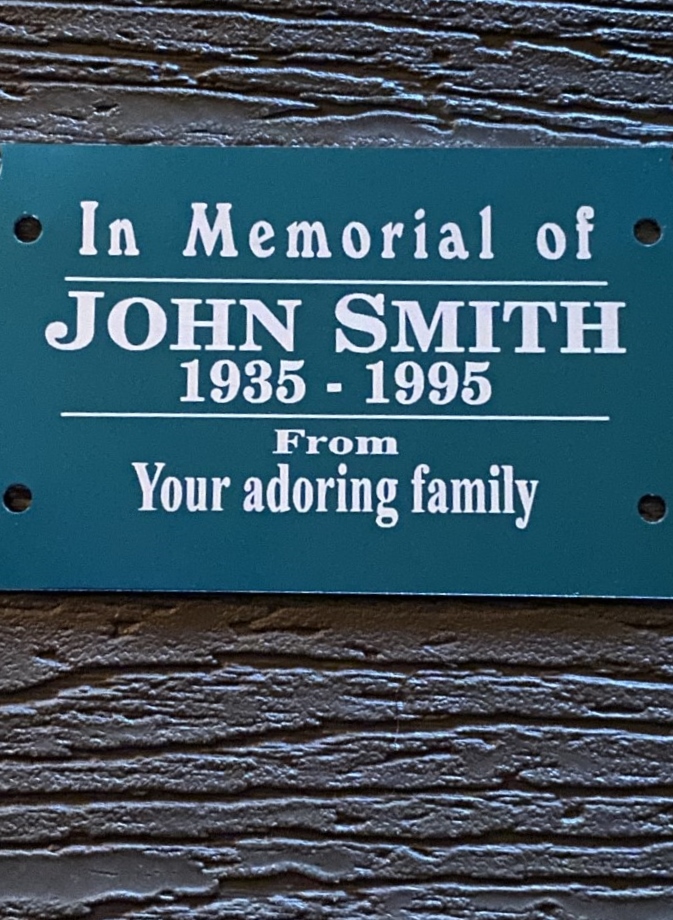 Option 3.
Example:
In remembrance of
JOHN SMITH
1935 – 1995
With Love
Your adoring family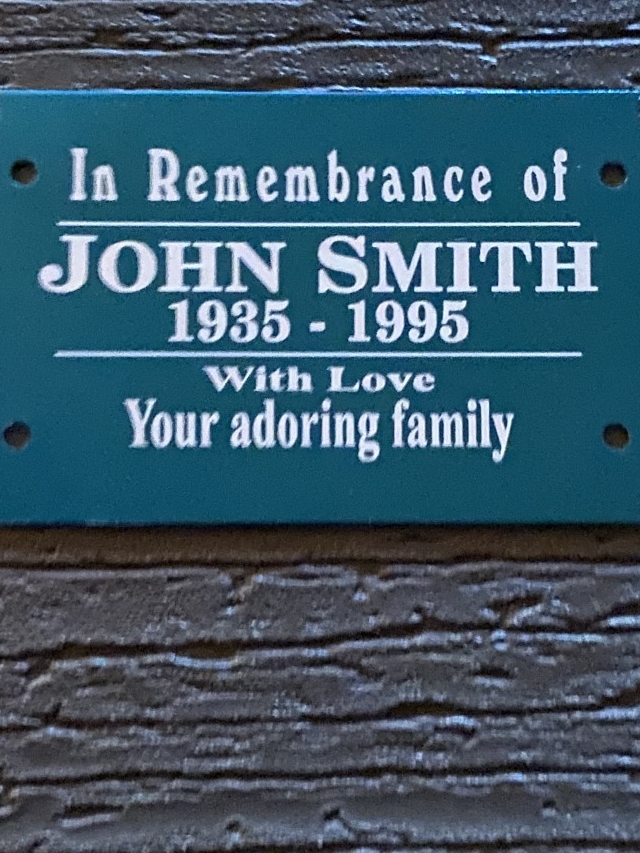 To order a plaque: Fill out the order form below.
Please be sure to enter your email so that we can tell you when your plaque will be on the bench.
Contact me if you have any questions: