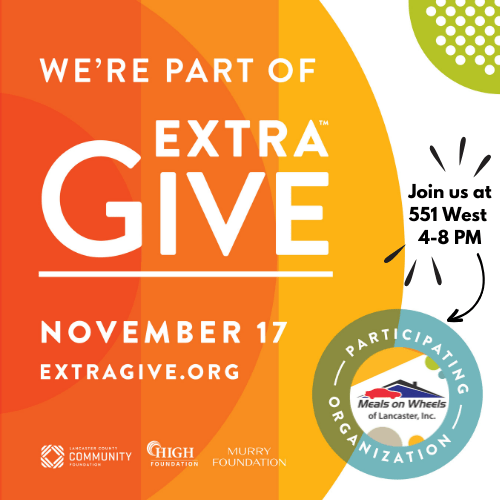 The 2023 Extra Give on Fri 11/17 is only a few weeks away!
(What is Extra Give, you ask? Click here to find out.)
We look forward to this event each and every year. What a great way to bring community together! Whether you are comfy in your own home or out on the town, there are opportunities to give back and to support organizations that have a positive impact on the lives of our neighbors (like us!).
Here is where we will be on the day of the event:

Coffee & Donuts between 8 AM & 9 AM
Do you have a penchant for a strong cup of coffee? Pop in to see us at our facility at the beginning of your day. There will be donuts.
Lancaster Silverball Retro Arcade between Noon & 6 PM
Join us and other nonprofits at Clipper Magazine Stadium for a day of fun, games, food and community!
551 West between 4 PM & 8 PM
Consider dropping in to see us at 551 West Restaurant in Lancaster City.
There will be delicious food, drinks, live music, donor stations and giveaways.

The best part of all this? You don't even have to leave the comfort of your own home to participate in the Extra Give! Any time between midnight and midnight, you can follow this link to support Meals on Wheels of Lancaster without having to step out of your PJs.

Let's #GiveExtra!