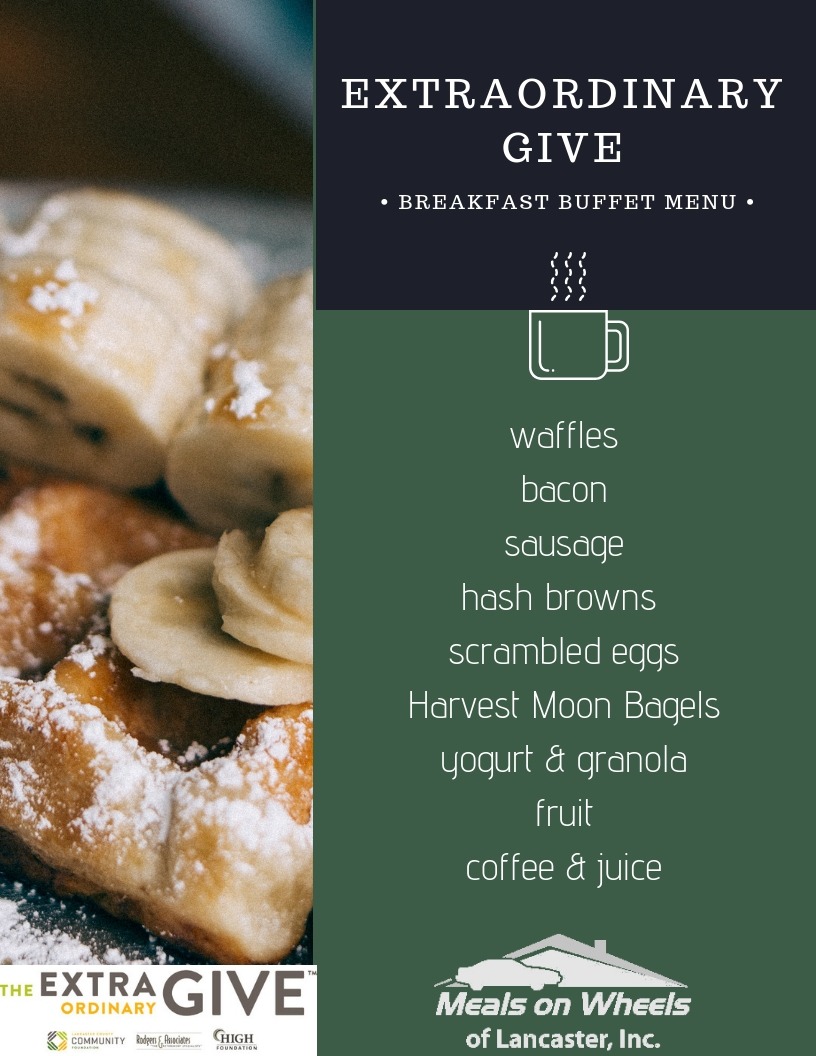 We are incredibly blessed to be a part of a community with so many charitable opportunities that benefit the life and wellness of your neighbors. Every year, we are excited to join the hundreds of organizations participating in Lancaster County's largest giving day of the year: The Extraordinary Give.
This year, on Friday, November 16th, our day will start bright and early, and you're invited to join us at our kickoff event: breakfast at our facility at 1085B Manheim Pike from 7am- 11:30am.
Enjoy a buffet of extraordinary breakfast foods served by the Board of Meals on Wheels of Lancaster.
Witness the unveiling of our new 2019 Meals on Wheels of Lancaster T-shirts! Countless hopeful artists entered our annual contest, but only one design won the hearts of the voters on Facebook and our in-person volunteer voting.
Receive a complementary 2019 T-shirt of your own with a donation over $25, or get a Meals on Wheels of Lancaster water bottle for an extra $10.
Help support us financially through a tax-deductible donation! The money you give helps ensure that financial hardship is not keeping one of our home bound neighbors from receiving the nutrition they require delivered to their door.
If you cannot make it to our building that morning, consider making your way over to The Coffee Company on Route 30 east of Lancaster or Gracie's On West Main in Leola. Meals on Wheels of Lancaster, in partnership with Conestoga Valley Education Foundation (CVEF), Region 2 Technology Student Association (TSA), and Conestoga Valley Christian Community Services (CVCCS), will have giving stations set up at these locations, and you will receive a discount on your meal when you donate!
To donate online, become a fundraising champion (where you tell your friends through your own unique donor link), or learn more, visit bit.ly/MoWextragive
As we continue to grow and move towards our new building, we are grateful for the opportunity to serve a wider part of our community geographically as well as numerically. Thank you for your support both on the day of The Extraordinary Give and every day of the year.