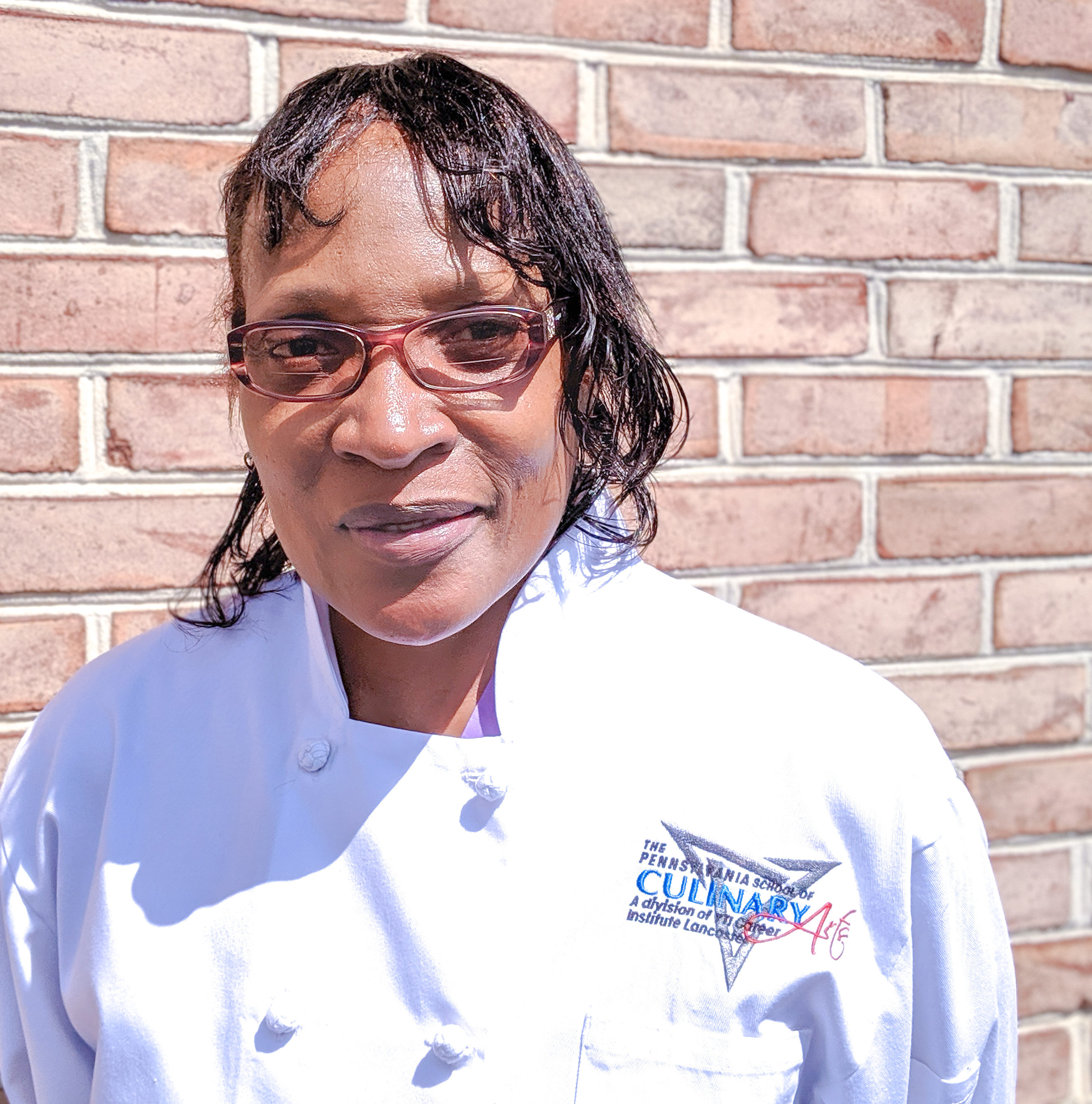 With our recent geographical expansion, we have increased the daily meals we prep and deliver by 120 a day! This, combined with a greater emphasis on scratch cooking, has resulted in an intensified focus on our kitchen capacity; There has been a surge in our need for afternoon prep, and so we built a position to help prepare ingredients ahead of time, and to coordinate afternoon kitchen volunteers to support that
We would love to introduce you to one of our newest staff members! Hailing from New York City, Lynn Brown moved to Lancaster in 1990. She completed her culinary training with Escoffier School of Culinary Arts.
After volunteering with us in the kitchen and supporting us with afternoon prep of ingredients, we decided to invite her to join our team as a part-time prep cook. Her hours here are also helping her complete her externship.
Her love of cooking started with an interest in food and playing with flavor, but blossomed with the inspiration of her mother. An exceptional cook, Lynn's mother used her culinary gifts to serve food in a homeless shelter in New York every day. Lynn is proud to follow in her mother's footsteps by using her love of cooking to serve her community.
She is thrilled to join Meals on Wheels of Lancaster's team. We don't want to brag, but she told us that she's impressed with our kitchen's culinary expertise, as well as our organization's strong drive for growth and sustainability. We're blushing. Lynn hopes that her time here will help her refine her cooking and build her management skills, so she can follow her career dream:
Her preliminary goal involves opening a soul food stand at Central Market. My mouth is watering just thinking about it! And to Lynn, that's just a small start: "Who knows where that may lead; The culinary field is full of opportunity! I hope to become an exceptional chef one day." Good thing she's learning from the best: the kitchen team at Meals on Wheels of Lancaster!
Until then, most of Lynn's time outside of work is spent with her family. She has one son and five grandchildren, two of which she has been raising since birth. Now, at 12 and 13 they don't leave their Grandmother with much time for hobbies.
Next time you're in the kitchen in the afternoon, say Hi to Lynn! If you are interested in kitchen volunteer opportunities, including afternoon ingredient prep work for individuals, morning and afternoon cold meal packing for small groups, or even Early Bird shifts for individuals, email Volunteer@MealsOnWheelsOfLancaster.org and check out https://mealsonwheelsoflancaster.org/volunteer/