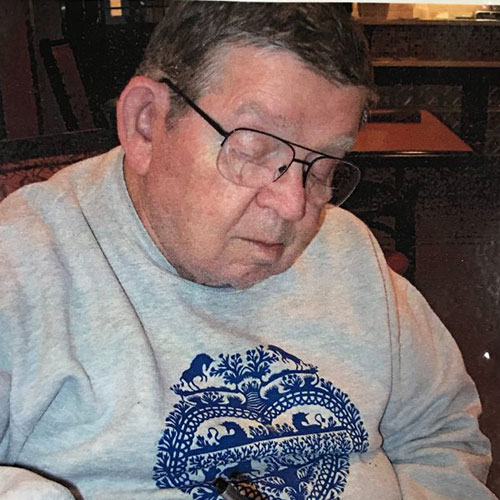 This winter, we are highlighting one of our fairly new clients and exceptionally talented artist, veteran, and former teacher Mr. William Hoin. William began our program with meals-on-wheels six months ago while recovering from a head injury which led him to the hospital for eight months. When I visited Mr. Hoin over the holiday season, I recall his sketching station to be the focal point of his kitchen where the natural daylight is almost spotless. This was where he had been working diligently on one his latest projects – an adult coloring book of the alphabet in sign language; each page representing a letter with illustrations of human hands spelling them out.
 As a young soldier in Vietnam, William found enjoyment and therapy through art during tumultuous times. After returning home to Lancaster with physical impairment, art gave him a cathartic outlet. Soon after, he decided to pursue a degree at Millersville University in industrial design and later obtained his Master's degree in Art Education. Due to epilepsy, his teaching career came to an end. This is what opened up a window for him to continue working full time on his artwork, illustrating books and selling them and has also exhibited his work nationally. After connecting with many fellow veteran artists, Hoin organized the Lancaster Veteran's Art Project at Mulberry Art Studios in 2008. The showcase exhibited a group of local veterans and their artistic masterpieces.
 Mr. Hoin sent us home with one of his illustrated craft books called The Craftmen's Village and Adult Coloring Book. The book narrates a series of twelve unique crafty characters such as Helga the Weaver, Madame Mai the Cook, Theresa the Jewelry Maker… You get the idea. Each character holds with it a unique story, detailed illustration, and diagrammed instructions on how to do their craft at home. William sent us home with a copy of the book which will be kept in our breakroom for volunteers to enjoy as well as several pieces of William's art that we've used to decorate our walls!
 As an artist, William is open to further exposure as well as organizing possible drawing demos in our MOW space some time this year. We are more than happy to oblige! We are also excited to continue extended visits to our clients and tap into what they are up to post-retirement. It's awesome to see senior citizens such as William still pursuing their passion! Thank you for sharing with us.